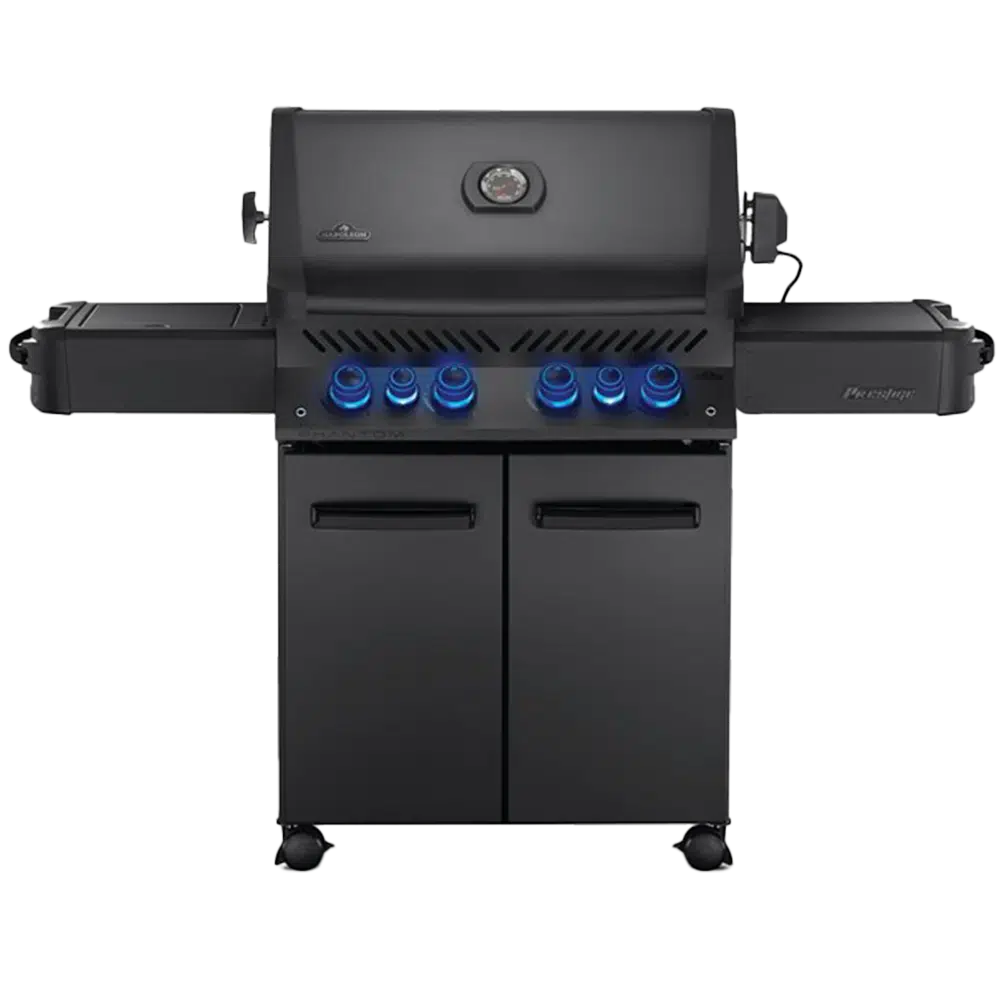 PHANTOM PRESTIGE 500 RSIB
$1,849.99
Deep, dark, matte black, the Phantom Prestige® 500 Propane Gas Grill with Infrared Side and Rear Burners is the total grilling package. From the top of the lid to the locking casters, this gas barbecue is completely silky matte black. Edgy and attractive, the Phantom has the full capabilities of an outdoor kitchen. Upgraded iconic WAVE™ cast stainless steel cooking grids and a multifunctional grilling rack – ideal for entertaining and incredible appetizers – round out the already incredible features of a Prestige® 500 Gas Grill. Four main burners, a rear burner, and infrared sear station, this grill cooks meals using a plethora of unique grilling styles. Stainless steel sear plates provide extra surface area for drippings to vaporize, keeping this luxurious grill clean, avoiding flare-ups. The matte black knobs are backlit with the SafetyGlow feature filling the night with blue light that turns red when the burners are on. The Phantom Prestige® 500 Gas Grill is more than just a look. It's a lifestyle.
Description
LUXURIOUS MATTE BLACK FINISH
MATTE IS THE NEW BLACK
The silky, modern, matte black finish provides exclusive, low-key luxury.
INFRARED REAR ROTISSERIE BURNER
BBQ LIKE A PRO
Infrared heat from the rotisserie burner is perfect for high heat searing and slow spit roasting.
UPGRADED MULTIFUNCTIONAL GRILLING RACK
A PREMIUM APPETIZER MACHINE
Premium, heavy-gauge, stainless steel replaces the warming rack in this barbecue with an all-in-one appetizer grilling station.
CAST STAINLESS STEEL ICONIC WAVE™ COOKING GRIDS
CAST STAINLESS STEEL
The iconic WAVE™ shaped stainless steel cooking grids are rust-resistant, require little maintenance and provide even heat.
ROTISSERIE INCLUDED
YOU SPIN ME RIGHT ROUND
Easily rotiss gourmet meals on your barbecue
INFRARED SIZZLE ZONE™ SIDE BURNER
STEAKHOUSE PERFECTION
Achieve ultimate steakhouse perfection by creating a caramelized crust that seals in the juices.
NIGHT LIGHT™ KNOBS WITH SAFETYGLOW
NEVER BE LEFT IN THE DARK
Never accidentally leave the gas on and know which burners are lit for multi-zone grilling.
INSTANT JETFIRE™ IGNITION
INSTANT, RELIABLE IGNITION
This innovative and easy to use ignition system shoots a jet of flame to light each gas burner individually for quick start-ups.
Information
Return & Exchanges
Exchanges and returns are accepted within 30 days of original purchase. Freight charges are not refundable. All return merchandise must be in new condition and in original, unopened (factory sealed) packaging. Items cannot have been opened, assembled, installed or used. After 30 days refunds will not be accepted. Clearance items are FINAL SALE items and are not refundable. Our general return policy does not apply to grills, smokers, ovens, furniture, and custom products. However, we will help you register your purchase for warranty with the manufacturer at the time of purchase. These items require special consideration and coordination with an IGNITE Grills and More Store team member and an RMA number.
Customer Support
Contact us by phone at (417) 272-1055 or by email at [email protected]
Specifications
| | |
| --- | --- |
| Brand | Napoleon |
| Cooking Surface | 17.75 x 28 in, 31 burgers |
| Energy Output | 80,000 BTU |
| Fuel Type | Propane |
| First Use Burnoff | Is it the very first time? Perform a Burn-off Remove warming rack and run the main burners on high for 30 minutes. It is normal for the grill to emit an odor the first time it is lit. This odor is caused by the "burn-off" of internal paints and lubricants used in the manufacturing process and will not occur again. |