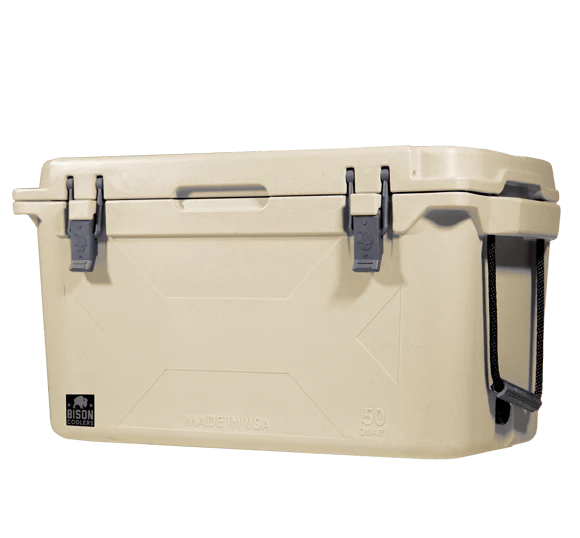 BISON 75 QT COOLER
$429.99
75 QUART ICE CHEST COOLER (GEN2)
Bison upgraded every cooler feature — from top to bottom — to make loading, transporting, and emptying your premium rotomolded cooler easier than ever. American-made features are built tough to hold up under any conditions: Durable rubber latches won't budge but are easy to open and close.
An oversized drain plug makes it easy to quickly drain and clean.
Rope handles offer a comfortable grip.
Skid-preventing rubber feet keeps your cooler firmly in place (on the boat or in the back of your pickup).
A lockable lid keeps your contents safe when you're away.
Available colors:  Sand | Granite
Information
Return & Exchanges
Exchanges and returns are accepted within 30 days of original purchase. Freight charges are not refundable. All return merchandise must be in new condition and in original, unopened (factory sealed) packaging. Items cannot have been opened, assembled, installed or used. After 30 days refunds will not be accepted. Clearance items are FINAL SALE items and are not refundable. Our general return policy does not apply to grills, smokers, ovens, furniture, and custom products. However, we will help you register your purchase for warranty with the manufacturer at the time of purchase. These items require special consideration and coordination with an IGNITE Grills and More Store team member and an RMA number.
Customer Support
Contact us by phone at (417) 272-1055 or by email at [email protected]