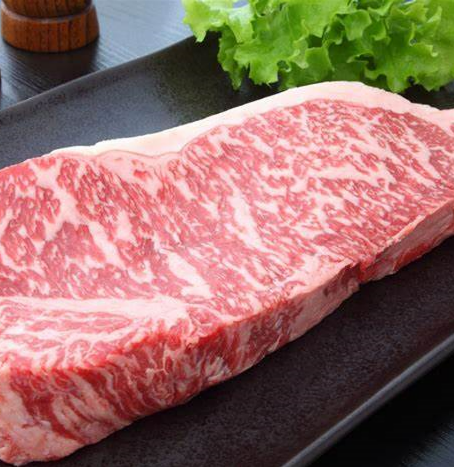 AKAUSHI (WAGYU) KC STRIP STEAK 3/4″ CUT
Contact us for current pricing.   Prices vary with the market. We carry only the best Akaushi Wagyu beef from The Upper Cut in Kansas City.  Akaushi cattle are a revered Japanese breed. What makes Akaushi beef so unique? They are genetically predisposed to distribute more fat into the muscle, giving the meat higher than normal amounts of marbling. What is truly remarkable about this beef is that not only is it incredibly tender and flavorful, it's also extraordinarily healthy. It is healthy due to its unique fatty acid composition when compared to other domestic beef. It has a higher monounsaturated fat to saturated fat content ratio as well as having a high amount of conjugated linoleic acid (CLA). The lower amounts of cholesterol, anti-inflammatory and anti-carcinogenic properties, only add to the abundance of positive qualities this tremendous product has to offer. In synchrony with it's exquisite flavor and inherent health benefits, it is sure to give our customers the absolute finest dining experience. It has been considered by the Japanese and many beef experts to be the most palatable beef in the world.
Information
Return & Exchanges
Exchanges and returns are accepted within 30 days of original purchase. Freight charges are not refundable. All return merchandise must be in new condition and in original, unopened (factory sealed) packaging. Items cannot have been opened, assembled, installed or used. After 30 days refunds will not be accepted. Clearance items are FINAL SALE items and are not refundable. Our general return policy does not apply to grills, smokers, ovens, furniture, and custom products. However, we will help you register your purchase for warranty with the manufacturer at the time of purchase. These items require special consideration and coordination with an IGNITE Grills and More Store team member and an RMA number.
Customer Support
Contact us by phone at (417) 272-1055 or by email at [email protected]
Specifications
| | |
| --- | --- |
| Brand | Upper Cut Kansas City |