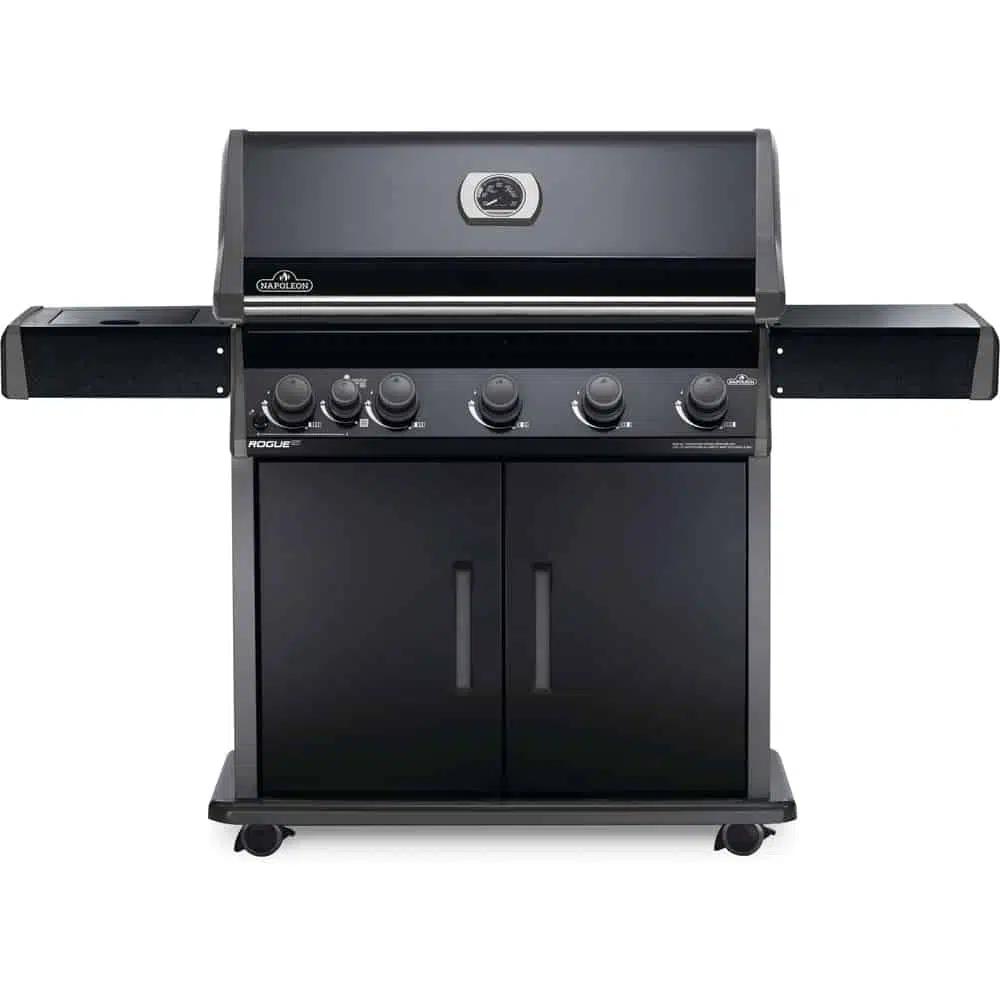 ROGUE XT 625 SIB
$1,199.99
BBQ your way with high-quality grilling at an affordable price, the Rogue® XT Propane Gas Grill with Infrared Side Burner in black is a versatile addition to any backyard. This grill is made from durable stainless steel and features folding side shelves for extra space. Easily move to where the action is with the locking casters. Inside, dual level sear plates vaporize drips and five tube burners light instantly with the JETFIRE™ ignition system. Feed a crowd; with 980 square inches of total cooking area which includes the infrared side burner, it's no trouble at all. You'll know it's a Napoleon with the iconic porcelain coated cast iron WAVE™ cooking grids for those distinctive sear marks. BBQ your way and use this grill to sear, smoke, sizzle, bake, grill, roast and authentic charcoal grilling. Grill different and go Rogue® with the Rogue® XT 625 Gas Grill.
Description
DURABLE CAST ALUMINUM FIRE BOX
SUPERIOR RUST RESISTANCE
Virtually indestructible, the fire box resists rust on a superior level and is backed by a 15 Year Warranty.
FOLDING SIDE SHELVES
FOLDING PREP AREA
Tuck your grill out of the way giving you extra space when needed with the folding side shelves.
ROBUST ERGONOMIC CONTROL KNOBS
ULTIMATE CONTROL
Like the steering wheel of a car, the smooth grip and robust shape enhances your grilling experience.
TWO DOOR ENCLOSED CART DESIGN
PROTECTION FROM WEATHER
Beyond sleek design, the enclosed cart protects from the elements for long-lasting durability.
INSTANT JETFIRE™ IGNITION
INSTANT, RELIABLE IGNITION
This innovative and easy to use ignition system shoots a jet of flame to light each gas burner individually for quick start-ups.
CROSS LIGHTING BURNER
AUTOMATICALLY RELIGHTS
If a burner goes out or fails to light, cross-lighting brackets automatically ignite the adjacent burners.
PREMIUM QUALITY STAINLESS STEEL BURNERS
PROVEN LONGEVITY & PERFORMANCE
Providing the perfect balance of fuel and oxygen, our premium quality burners blaze with efficiency and even heating.
SLEEK HIGH-TOP LID
LIFTS EASILY AND RETAINS HEAT
The higher lid design speaks true to Napoleon artisanship creating design balance on the larger Rogue models.
Information
Return & Exchanges
Exchanges and returns are accepted within 30 days of original purchase. Freight charges are not refundable. All return merchandise must be in new condition and in original, unopened (factory sealed) packaging. Items cannot have been opened, assembled, installed or used. After 30 days refunds will not be accepted. Clearance items are FINAL SALE items and are not refundable. Our general return policy does not apply to grills, smokers, ovens, furniture, and custom products. However, we will help you register your purchase for warranty with the manufacturer at the time of purchase. These items require special consideration and coordination with an IGNITE Grills and More Store team member and an RMA number.
Customer Support
Contact us by phone at (417) 272-1055 or by email at [email protected]
Specifications
Cooking Surface

18 x 34.75 in

39 burgers

Energy Output

69,000 BTU

Fuel Type

Propane

First Use Burnoff

Is it the very first time? Perform a Burn-off
Remove warming rack and run the main burners on high for 30 minutes. It is normal for the grill to emit an odor the first time it is lit. This odor is caused by the "burn-off" of internal paints and lubricants used in the manufacturing process and will not occur again.