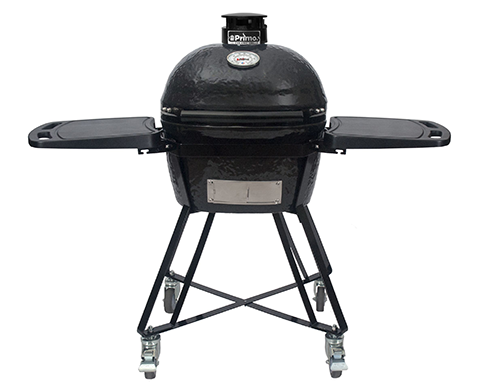 Description
All the benefits of the patented oval shape, in a smaller version. Our Junior Charcoal Primo offer superior cooking efficiency and accessibility. Grill, bake, roast, or smoke any food.
The All-In-One package comes with the grill head, an ergonomic handle, cradle stand, side tables, ash tool, and grate lifter.
The Junior Charcoal Primo also has a Primo GO two-piece cradle and base available for additional purchase. This cradle and base makes the Junior Charcoal Primo the largest portable ceramic grill available.
The Primo Oval offers true simultaneous two-zone direct and indirect cooking. That's a fancy way of saying you get two very distinct cooking zones, almost like using a grill and an oven at the same time. Grill steaks on the direct side
and roast seafood or vegetables on the indirect side. This unique cooking method gives you the flexibility to grill with blazing heat on one side of the Primo, while maintaining a lower temperature on the other for low and slow cooking.
The reversible cooking grid, heat deflector plates, extension racks and other accessories allow you to create more than 69 cooking configurations. The Primo is ready to handle any job, from smoking large cuts, grilling out for large
events, or even throwing on a quick pizza for the family. No round grill offers so much cooking versatility and cooking space at the same time.
The Primo All-In-One Series was developed with convenience in mind. The vision behind the product is to offer a selection of grills that are ready to grill with minimal setup out of the box. The All-In-One Series is the most economical way to own some of our most popular accessories, and is available with four of our ceramic grills. Go from box to barbecuing in just minutes!
Primo ceramic grills are made in the USA utilizing the highest grade of ceramics. The ceramic provides superior heat retention, which allows you to maintain consistent temperatures producing juicy and tender food. Primo
has combined quality-controlled production processes, exceptional glazes, and the highest grade of ceramics to create a grill that can truly withstand the test of time.
Information
Return & Exchanges
Exchanges and returns are accepted within 30 days of original purchase. Freight charges are not refundable. All return merchandise must be in new condition and in original, unopened (factory sealed) packaging. Items cannot have been opened, assembled, installed or used. After 30 days refunds will not be accepted. Clearance items are FINAL SALE items and are not refundable. Our general return policy does not apply to grills, smokers, ovens, furniture, and custom products. However, we will help you register your purchase for warranty with the manufacturer at the time of purchase. These items require special consideration and coordination with an IGNITE Grills and More Store team member and an RMA number.
Customer Support
Contact us by phone at (417) 272-1055 or by email at [email protected]
Specifications
Cooking Area

210 square inches

Temperature Range

151* – 850* F

Weight

100 lbs.

Grilling Capacity

3 whole chickens
1 small whole turkey
4 steaks
8 burgers
4 racks of ribs
8 ears of corn