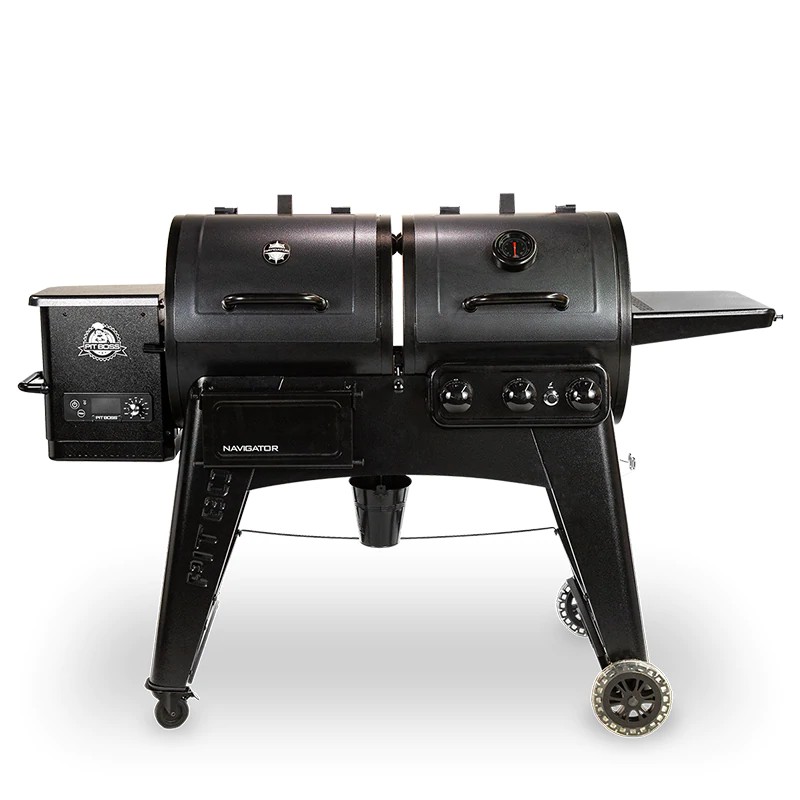 PIT BOSS NAVIGATOR PELLET/GAS COMBO GRILL – PB1230G
$1,249.99
Wood pellet and gas grill combination Custom-fitting PB1230G grill cover included 1,084 square inches of cooking surface Porcelain-coated cast iron cooking grates Dial-in digital control board with LED readout Pellet cooking temperature range of 180° To 500°F Adjustable Flame Broiler Lever™ for direct and indirect heat cooking 8-In-1 cooking versatility – Grill, smoke, bake, roast, sear, braise, char-grill and barbecue Two meat probes included Fueled by 100% hardwood pellets and liquid propane gas Pellet to gas damper for cold smoking 16-pound hopper capacity Folding front shelf Solid side shelf Built-in tool hooks Reinforced leg design
Description
The Pit Boss 1230G Navigator Series is the ultimate grilling experience for the modern handyman, ergonomically designed to provide less strain and more usability. This combination grill allows you to harness the bold flavors of wood or utilize the convenience of a propane depending on your needs. With advanced grilling technology, premium grade steel builds and 100% all-natural hardwood pellet fuel, enjoy Bigger.Hotter.Heavier features that can only come from a Pit Boss® grill.
With incredible 8-in-1 cooking versatility, the Pit Boss® 1230G allows you to smoke, bake, braise, roast, grill, barbecue, char-grill, and sear – all in one machine. Using our innovative Flame Broiler Lever™, you can achieve instant direct or indirect heat in a temperature range of 180° to 500°F. The digital control board and stainless-steel meat probes allow you to track temperatures so you can set it and forget it. Let the Navigator do all the work for you.
Additional features of the Pit Boss 1230G Navigator Series Wood Pellet and Gas Combination Grill includes a premium custom-fitting grill cover, pellet to gas damper for cold smoking, three gas burners, two included meat probes, a large hopper capacity, reinforced legs, high-temperature powder coat finish, folding front shelf, built-in tool hooks, locking caster wheels and the Pit Boss® best-in-class 5-year warranty.
Information
Return & Exchanges
Exchanges and returns are accepted within 30 days of original purchase. Freight charges are not refundable. All return merchandise must be in new condition and in original, unopened (factory sealed) packaging. Items cannot have been opened, assembled, installed or used. After 30 days refunds will not be accepted. Clearance items are FINAL SALE items and are not refundable. Our general return policy does not apply to grills, smokers, ovens, furniture, and custom products. However, we will help you register your purchase for warranty with the manufacturer at the time of purchase. These items require special consideration and coordination with an IGNITE Grills and More Store team member and an RMA number.
Customer Support
Contact us by phone at (417) 272-1055 or by email at [email protected]
Specifications
Brand

Pit Boss

Fuels

PELLETS:
This pellet cooking appliance is designed and approved for pelletized, all natural, wood fuel only. Any other type of fuel burned
in this appliance will void the warranty and safety listing. You must only use all natural wood pellets, designed for burning in
pellet barbecue grills. Do not use fuel with additives. The pellet fuel means heating value in 8,000 – 8,770 BTU/LB, ash content < 1%.

Do not use spirit, petrol, gasoline, lighter-fluid or kerosene for lighting or refreshing a fire in your grill.

PROPANE:
Keep all such liquids well away from the appliance when in use
The grill is set and tested with liquid propane gas only. The regulator supplied is set for 27.94 cm (11 inch) water column (WC) and
is for use with LP gas only. The factory-supplied regulator and hose must be used with a 9 kg (20 lbs) LP gas tank. Contact your
gas supplier for a special regulator for bulk gas that fuels other appliances.
CAUTION: It is important to inspect the full length of the gas line hose. If it is evident there is excessive abrasion or wear, or the hose is cut, the hose must be replaced prior to the appliance being used.

First Use - Burn Off

Once your hopper has been primed and before cooking on your grill for the first time, it is important to complete a grill burn-off.
Start the grill and operate at any temperature over 176°C / 350°F (with the lid down) for 30 to 40 minutes to burn-off the grill
and rid it of any foreign matter.