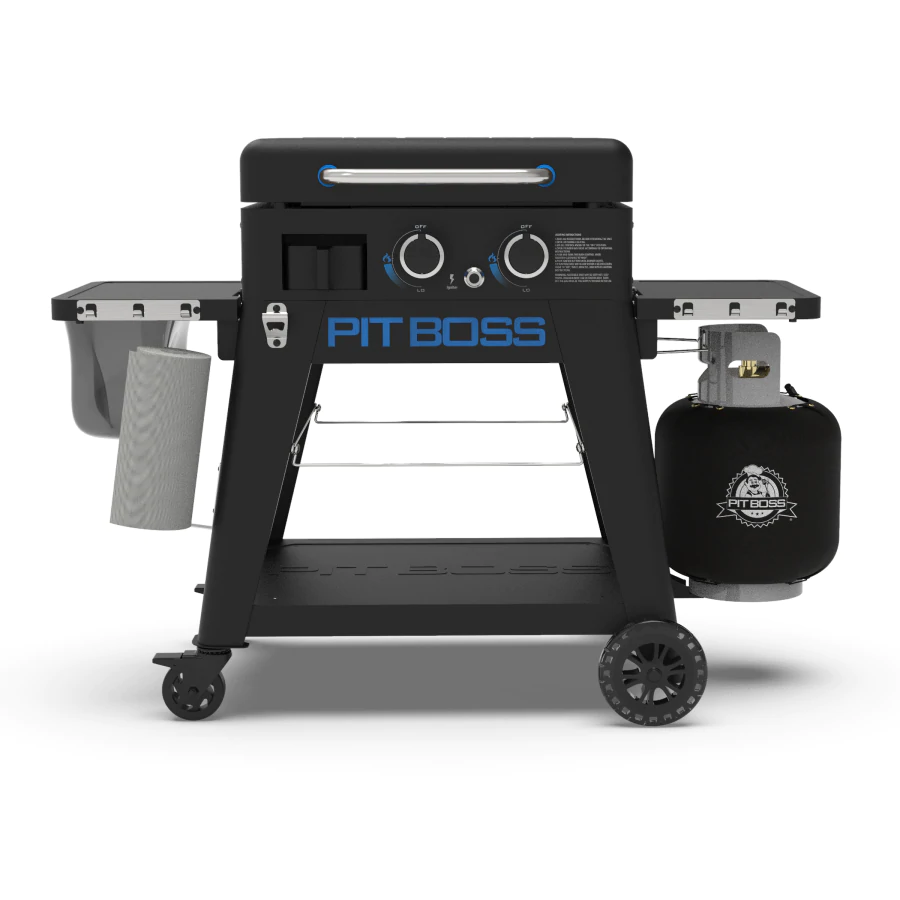 PIT BOSS 2 BURNER ULTIMATE LIFT-OFF GRIDDLE – PB2BGD2
$599.99
Portable Gas Griddle 421 square inches of cooking area Proprietary non-stick armored ceramic cooking surface Lift-off cooking top, 55lbs Two stainless steel gas burners 26,000 BTU Chrome handles and knobs Removeable grease tray Folding side shelves with built-in tool hooks Solid bottom shelf Paper towel holder Trash bag holder
Description
Innovation meets versatility with the Ultimate Griddle by Pit Boss® Grills. The Pit Boss® Ultimate 2-Burner Lift-Off Griddle perfectly blends power, portability and precision to create a one-of-a-kind grilling machine that delivers a Bigger. Hotter. Heavier. outdoor cooking experience unlike anything on the market today.
Fitted with our all-new proprietary non-stick armored ceramic cooking surface, the Ultimate Griddle delivers an unrivaled user-friendly cooking experience. The first of its kind, this exclusive surface is ready to use straight out of the box and is a dream to clean, needing just a gentle wipe after use. As an added bonus, the ceramic coating also protects the griddle from scratches and rust, keeping your unit looking better for longer.
Completely portable, the Ultimate Griddle utilizes our easy lift-off technology for simple transport to any campsite or tailgating event. These units are aesthetically qualified to be the centerpiece of your backyard cooking arrangement, while also being flexible enough to hit the road and handle your cooking needs wherever you go. Featuring a robust 2-burner heating platform, the Ultimate Griddle is the perfect fit for whatever your needs may be. As practical as it is inventive, this line of griddles is our most versatile product to date.
Backed by a best-in-class two-year warranty, the choice is simple. The Ultimate Griddle by Pit Boss® Grills is the Biggest. Hottest. Heaviest. griddle on the market.
Information
Return & Exchanges
Exchanges and returns are accepted within 30 days of original purchase. Freight charges are not refundable. All return merchandise must be in new condition and in original, unopened (factory sealed) packaging. Items cannot have been opened, assembled, installed or used. After 30 days refunds will not be accepted. Clearance items are FINAL SALE items and are not refundable. Our general return policy does not apply to grills, smokers, ovens, furniture, and custom products. However, we will help you register your purchase for warranty with the manufacturer at the time of purchase. These items require special consideration and coordination with an IGNITE Grills and More Store team member and an RMA number.
Customer Support
Contact us by phone at (417) 272-1055 or by email at [email protected]
Specifications
Brand

Pit Boss

Technology

Proprietary non-stick armored ceramic cooking surface

Gas Cylinder Requirements

The griddle is set and tested with liquid propane gas only. The regulator supplied is set for 27.94 cm (11 inch) water column (WC)
and is for use with liquid propane (LP) gas only. The factory-supplied regulator and hose must be used with a 9 kg (20 lbs) LP gas
cylinder, to the dimensions of 18-1/4" (46.35 cm) high, 12-1/4"(31 cm) diameter. Contact your gas supplier for a special regulator
for bulk gas that fuels other appliances.

First Use - Burn Off

Before using your griddle for the first time with food, it is important to complete a burn-off. Start the griddle and operate for a
minimum of 15 minutes on HIGH to burn-off the unit. This will "heat clean" the internal components, dissipate odors and rid it of
any foreign matter.

Suitable Cooking Oils

Vegetable, olive, peanut, coconut, and sesame
oils are all suitable for seasoning your griddle.