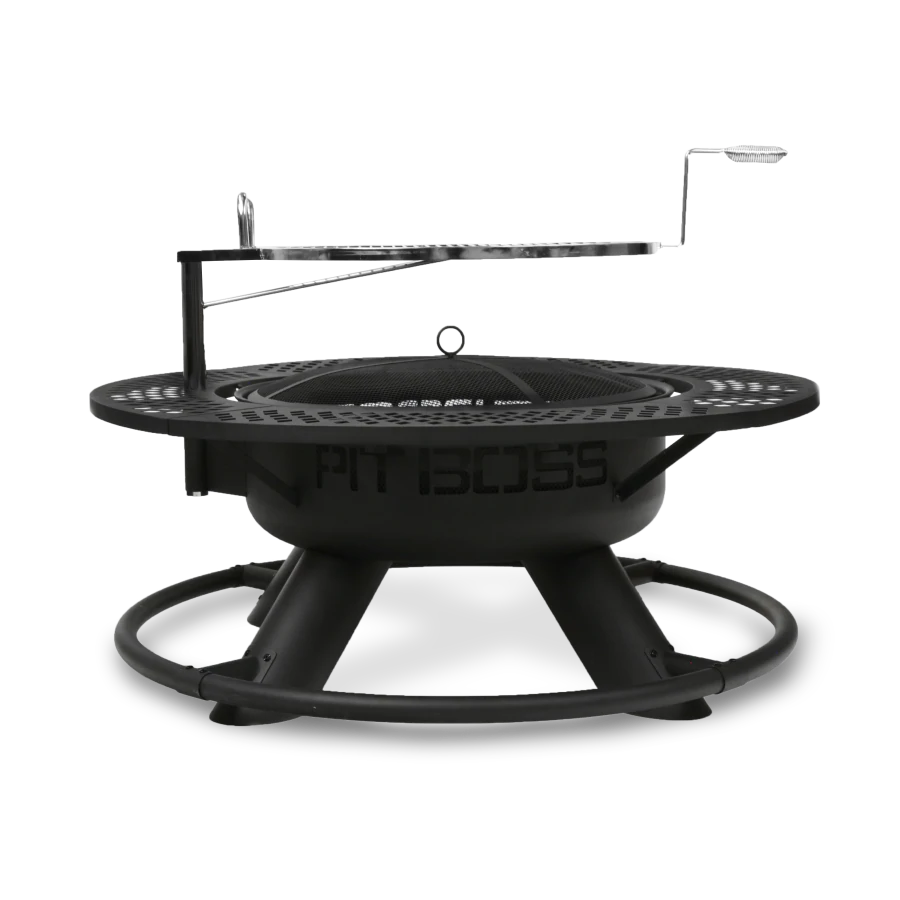 PB COWBOY FIREPIT / GRILL – PB410FP
$379.99
2-in-1 Wood Fire Pit 483 square inches of cooking surface 24.8-inch grid diameter Stainless-steel grid construction Removeable and adjustable swivel grate Wraparound mesh shelf Removeable Ash and ember clean out pan Mesh spark screen High temperature black sand finish Heavy gauge Stainless-steel handle
Description
Bring the Bigger. Hotter. Heavier.® bonfire to your backyard with the Cowboy Fire Pit by Pit Boss® Grills. Perfect for both entertaining and barbecuing, this 2-in-1 pit is an excellent addition for your next outdoor gathering.
The Cowboy Fire Pit's innovative design features a swivel stainless-steel grate for authentic wood-fired cooking that you'd expect from a Pit Boss product. You can adjust the grate height to cook with more or less heat or remove it completely to enjoy the flames.
The large-capacity bowl holds enough wood to burn for hours, while the wide-base design and heavy-duty steel construction offer long-lasting outdoor use. These units also feature a wraparound mesh shelf that act as a convenient side table for setting down food or drinks. Plus, with safety features like a mesh spark screen and effortless ash cleanout, the Pit Boss Cowboy Fire Pit the perfect fire pit for backyards with families or pets.
Information
Return & Exchanges
Exchanges and returns are accepted within 30 days of original purchase. Freight charges are not refundable. All return merchandise must be in new condition and in original, unopened (factory sealed) packaging. Items cannot have been opened, assembled, installed or used. After 30 days refunds will not be accepted. Clearance items are FINAL SALE items and are not refundable. Our general return policy does not apply to grills, smokers, ovens, furniture, and custom products. However, we will help you register your purchase for warranty with the manufacturer at the time of purchase. These items require special consideration and coordination with an IGNITE Grills and More Store team member and an RMA number.
Customer Support
Contact us by phone at (417) 272-1055 or by email at [email protected]
Specifications
| | |
| --- | --- |
| Brand | Pit Boss |
| Material | Heavy gage stainless steel |
| Cooking Surface | 483 square inches |