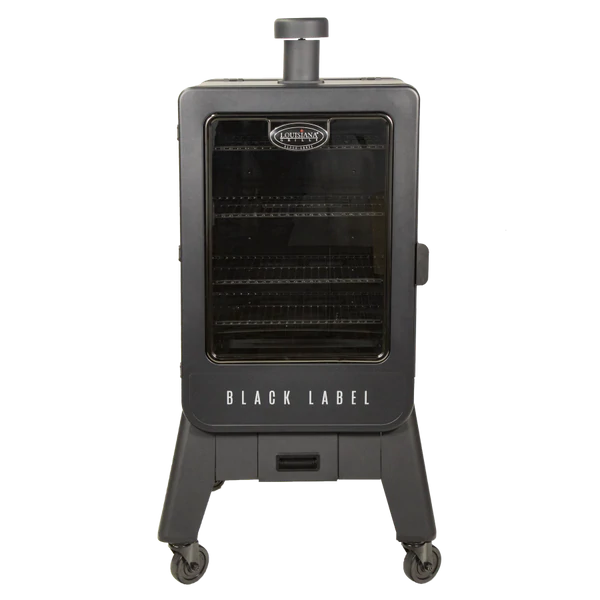 Description
The Black Label Vertical Smoker is built with four easy-to-maneuver wheels, making smoking, roasting and baking masterful meals more convenient than ever. Featuring 1,077 square inches of total cooking area, four adjustable cooking racks, two fully-programable meat probes and a best-in-class five-year warranty, the Black Label Series Vertical Smoker by Louisiana Grills® is designed to raise the standard of your backyard culinary experience.
The Black Label Series by Louisiana Grills® boldly reimagines the meaning of pellet grilling. A full redesign of the original Louisiana Grills® Line, this lineup includes upscale designs, premium technology upgrades and an intelligent digital control board. Use the Smoke iT™ app to remotely control everything on the digital control board – from the convenience of your phone. Do away with unpredictable grilling by achieving maximized airflow and hotter grill temperatures at speeds faster than ever before. The Black Label Series provides a thoughtful, griller-focused experience that puts you in control of luxury outdoor cooking.
Information
Return & Exchanges
Exchanges and returns are accepted within 30 days of original purchase. Freight charges are not refundable. All return merchandise must be in new condition and in original, unopened (factory sealed) packaging. Items cannot have been opened, assembled, installed or used. After 30 days refunds will not be accepted. Clearance items are FINAL SALE items and are not refundable. Our general return policy does not apply to grills, smokers, ovens, furniture, and custom products. However, we will help you register your purchase for warranty with the manufacturer at the time of purchase. These items require special consideration and coordination with an IGNITE Grills and More Store team member and an RMA number.
Customer Support
Contact us by phone at (417) 272-1055 or by email at [email protected]
Specifications
Brand

Louisiana Grills

Cooking Surface

1,077 square inches of total cooking area, four adjustable cooking racks

Temperature Range

HIGH TEMPERATURE (190-215°C / 375-420°F)
This range is used to grill at high heat, without any contact with flame. High temperature is also used as the burn-off temperature to clean off the cooking grids after use. Additionally, high heat can be used in extreme cold weather conditions to compensate for the contrast of temperatures between outside and inside the unit.
MEDIUM TEMPERATURE (135–177°C / 275–350°F)
This range is best for baking, roasting, and finishing off that slow smoked creation. Cooking at these temperatures will greatly reduce the chances of a grease flare-up. Ensure that the flame broiler slider in the closed position, covering the slotted openings. Great range for cooking anything wrapped in bacon, or where you want versatility with control.
LOW TEMPERATURE (65–125°C / 150–257°F)
This range is used to slow roast, increase smoky flavor, and to keep foods warm. Infuse more smoke flavor and keep your meats juicy by cooking longer at a lower temperature (also known as low and slow). Recommended for the big turkey at Thanksgiving, juicy ham at Easter, or the huge holiday feast.
Smoking is a variation on true barbecuing and is truly the main advantage of a smoker. There are two types of smoking: hot and cold smoking.
• Hot smoking, another name for low and slow cooking, is generally done at 65-122°C / 150-250°F. Hot smoking works best when longer cooking
time is required, such as large cuts of meats, fish, or poultry.
• Cold smoking is when the food is located so far away from the fire that it smokes without cooking, and at temperatures of 15-32°C / 60-90°F

Fuel Type

WOOD PELLET FUEL
This pellet cooking appliance is designed and approved for pelletized, all natural, wood fuel only. Any other type of fuel burned in this appliance will void the warranty and safety listing. You must only use all natural wood pellets, designed for burning in pellet barbecue smokers. Do not use fuel with additives. Wood pellets are highly susceptible to moisture and should always be stored in an airtight container. If you are storing your smoker, without use, for an extended period, we recommend clearing all pellets from your smoker's hopper and auger, to prevent jams. The pellet fuel mean
heating value in 8,000 – 8,770 BTU/LB, ash content < 1%.

First Use - Burn Off

WOOD PELLET FUEL
This pellet cooking appliance is designed and approved for pelletized, all natural, wood fuel only. Any other type of fuel burned in this appliance will void the warranty and safety listing. You must only use all natural wood pellets, designed for burning in pellet barbecue smokers. Do not use fuel with additives. Wood pellets are highly susceptible to moisture and should always be stored in an airtight container. If you are storing your smoker, without use, for an extended period, we recommend clearing all pellets from your smoker's hopper and auger, to prevent jams. The pellet fuel mean
heating value in 8,000 – 8,770 BTU/LB, ash content < 1%