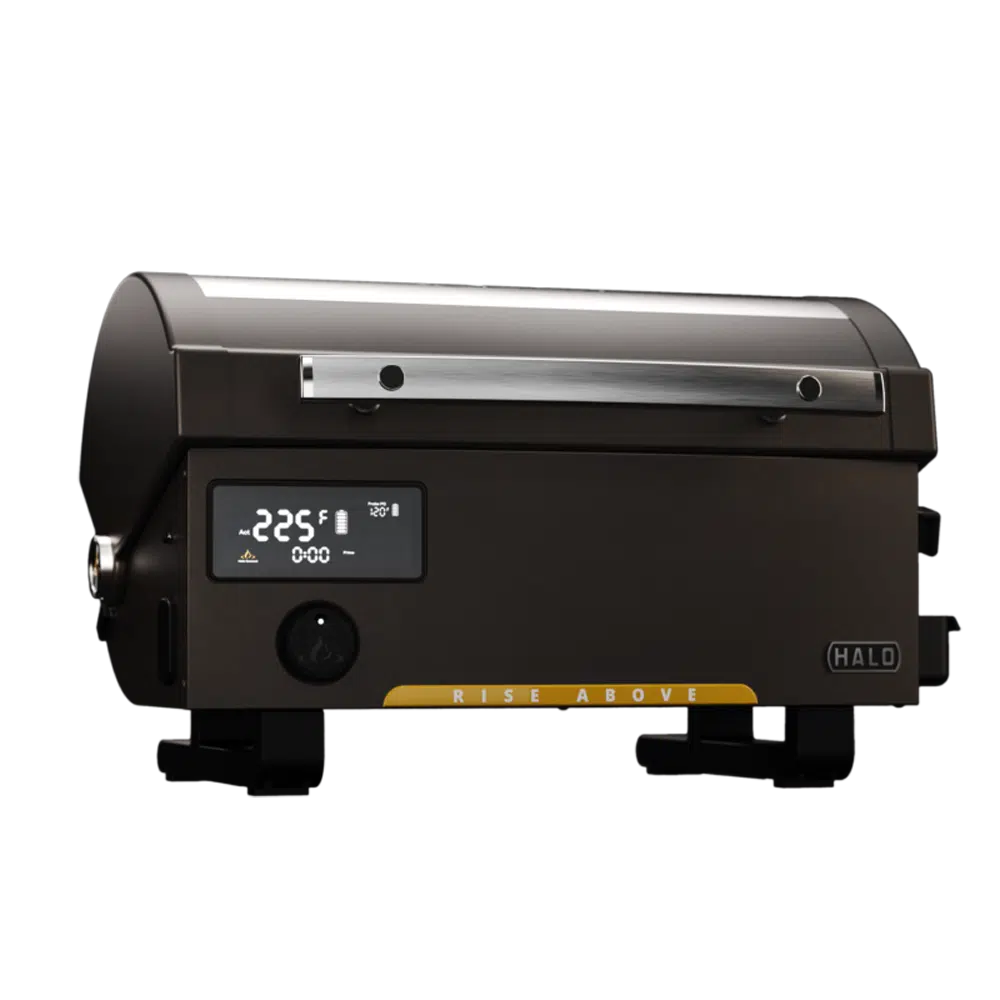 HALO PRIME 300 COUNTERTOP PELLET GRILL
$589.99
Industry's First Rechargeable Battery Powered Pellet Grill 300 sq in Total Cooking Surface 180°F – 500°F Temperature Range Smoke or Direct Sear 10lb Hopper Capacity Wired Meat Probe Swing away warming rack AC Adapter Battery sold separately
Description
GAME CHANGER
Enjoy the benefits of the compact size without sacrificing an ounce of pellet smoke flavor. Our patent pending igniter system allows the Prime 300 to be powered by a 12-volt 5Ah Rechargeable Lithium-ion Battery Pack. Untethered for the perfect outdoor kitchen addition or an on-the-go, camping and tailgating companion.
| Spec | Size |
| --- | --- |
| Height | 10 in |
| Width | 20 in |
| Depth | 20 in |
| Weight | 50 lb |
Information
Return & Exchanges
Exchanges and returns are accepted within 30 days of original purchase. Freight charges are not refundable. All return merchandise must be in new condition and in original, unopened (factory sealed) packaging. Items cannot have been opened, assembled, installed or used. After 30 days refunds will not be accepted. Clearance items are FINAL SALE items and are not refundable. Our general return policy does not apply to grills, smokers, ovens, furniture, and custom products. However, we will help you register your purchase for warranty with the manufacturer at the time of purchase. These items require special consideration and coordination with an IGNITE Grills and More Store team member and an RMA number.
Customer Support
Contact us by phone at (417) 272-1055 or by email at [email protected]
Specifications
Brand

Napoleon

Cooking Surface

18 x 28.75 in

32 burgers

Energy Output

57,000 BTU

Fuel Type

Propane

First Use Burn Off

Is it the very first time? Perform a Burn-off
Remove warming rack and run the main burners on high for 30 minutes. It is normal for the grill to emit an odor the first time it is lit. This odor is caused by the "burn-off" of internal paints and lubricants used in the manufacturing process and will not occur again.