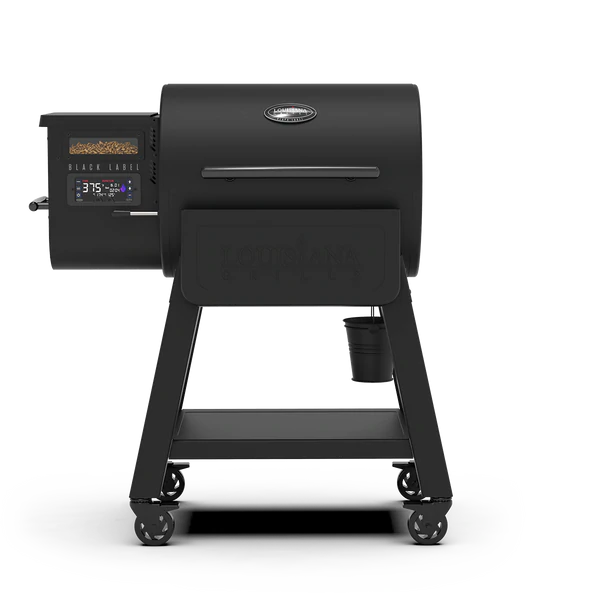 800 BLACK LABEL SERIES GRILL WITH WIFI CONTROL – LG800BL
$999.99
18-pound hopper 180° to 600°F temperature range heavy-duty 14-gauge steel construction high-temperature black sand powder coat finish Solid steel folding front shelf Solid steel bottom shelf Four locking caster wheels Black nickel-plated stainless-steel handles Solid steel bottom shelf
Description
The Black Label Series by Louisiana Grills is flavor redefined. It reimagines the original Louisiana Series Grill Line by including upscale designs and premium technology upgrades. Enjoy an intelligent digital control board with built-in WiFi and Bluetooth capability. Anything you can do on your digital control board can be done in the palm of your hand using a smartphone and the Louisiana Grills app. The Black Label Series also takes bold steps into the future with a robust, fully designed proprietary exhaust system. Welcome yourself to the upper echelon of grilling by reaching hotter grill temperatures at speeds faster than ever before. The Black Label Series provides a thoughtful, griller-focused experience that puts you in control of luxury outdoor cooking.
With a slew of innovative accompaniments, the 800 Black Label Grill is the perfect grill to handle full course meals for 7-8 people. It delivers robust versatility in a family-sized package. Between 809 square inches of cooking space, a 180° to 600°F temperature range, and an 18-pound hopper, the LG800BL goes beyond the predictable large-sized grill. It also comes equipped with two full-functional programmable meat probes, an open and close slide-plate flame broiler lever for direct and indirect heat, porcelain-coated cooking grids, fan-forced convection airflow technology, one-touch auto-start grill ignition, and automatic start-up and cool down.
Information
Return & Exchanges
Exchanges and returns are accepted within 30 days of original purchase. Freight charges are not refundable. All return merchandise must be in new condition and in original, unopened (factory sealed) packaging. Items cannot have been opened, assembled, installed or used. After 30 days refunds will not be accepted. Clearance items are FINAL SALE items and are not refundable. Our general return policy does not apply to grills, smokers, ovens, furniture, and custom products. However, we will help you register your purchase for warranty with the manufacturer at the time of purchase. These items require special consideration and coordination with an IGNITE Grills and More Store team member and an RMA number.
Customer Support
Contact us by phone at (417) 272-1055 or by email at [email protected]
Specifications
Brand

Louisiana Grills

Cooking Surface

289 Sq. In. Top Rack and 520 Sq. In. Main Rack
Total Cooking Surface 809 Sq. In.

Temperature Range

180* – 600* F

Wood Pellet Fuel

This pellet cooking appliance is designed and approved for pelletized, all natural, wood fuel only. Any other type of fuel burned in this appliance will void the warranty and safety listing. You must only use all natural wood pellets, designed for burning in pellet barbecue grills. Do not use fuel with additives. Wood pellets are highly susceptible to moisture and should always be stored in an airtight container. If you are storing your grill, without use, for an extended period, we recommend clearing all pellets from your grill's hopper and auger, to prevent jams. The pellet fuel mean heating value in 8,000 – 8,770 BTU/LB, ash content < 1%.

First-Use Burn Off

Before cooking on your grill for the first time, it is important to complete a unit Burn Off. Start the unit and operate at a temperature over 350°F, with the lid down, for 30 to 40 minutes to Burn Off the unit and rid it of any foreign matter.